Kids Camp
At the present time we do not think we will be able to run a Kids Camp in 2016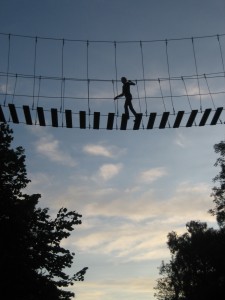 The camp is aimed at riders between 10 and 15 years old and is one of the most extreme holidays you and your pony will ever have. A fantastic opportunity to combine riding during the day with the best evening entertainment you will find anywhere – anything from swinging through the trees on Aerial Extreme to trying your hand at archery or segways and water zorbs – and all with fully qualified staff in attendance!
Ponies can either be stabled, or if mucking out is not to your taste, kept in one of our indiviual grass paddocks. Riders will be divided according to their ability and will have the chance to brush up their flatwork, work over a full track of show jumps, improve their XC skills and hack out round the Camp Hill estate. As well as having lots of fun we hope that it will be a chance for ponies and riders to gain in confidence and learn new skills.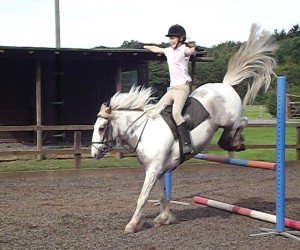 Children stay in bunkhouses and are encouraged to bring bicycles to help them explore the estate. They will be rounded up and fed and watered at regular intervals and we aim to return them tired and happy (if slighty grubby) at the end of their stay.
Duration: 3days, 2 nights
Dates for 2016:
Cost: