Childrens Courses
2018 Dates: 6th April/11th April//28th May/more dates to follow
A XC session, divided according to age and ability, promoting safe XC riding and improving confidence of horse and rider. Sessions start in the school to check rider position and control before moving onto the XC course. Novice groups will work on the straightforward 1′ 6″ fences while the more advanced groups will work on riding correct line and speed for combination fences and how to ride banks, ditches and skinny fences . Groups restricted to 5 riders
Duration: approx 2 hours
Price: £30
Click here for application form
Teenagers XC Clinic
2016 Date: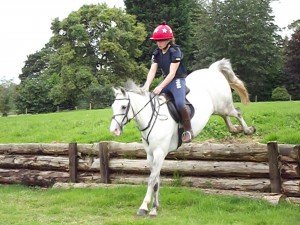 The day is aimed towards 11 – 15 year old competitor who may be thinking of doing a BE 80. The morning session starts in the arena and concentrates on a safe xc position,  getting your horse listening to the rider and how to ride a correct line through combination fences plus a bit of the theory behind successful XC riding.  After a break for lunch it is time for some practical XC, putting the theory to the test and includes learning about riding at the correct speed at a variety of fences in order to tackle them safely.
Duration: 1 Day (11 am – 3.30 pm)
Price: £
Click here for application form
Junior BE Eventing Day Course
2015 Date:
The ideal training if you are going to be competing at BE events this year or even just thinking of doing so. The course starts in the arena ensuring the riders are adopting a safe position for riding XC and continues to work on developing straightness and accuracy for riding angles, arrowheads and corners and increasing confidence and communication between horse and rider. Over a working lunch there are discussions on walking the course, understanding the different gears required to ride different types of obstacles safely, analyzing the riders XC position and the effect this has on the horse as well as talks on XC tack, studs, and care of the horse at the event.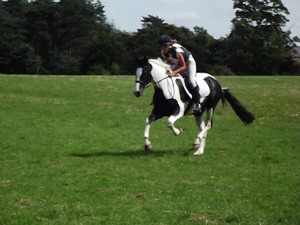 The afternoon starts by using a measured circuit to enable you to feel the different speeds required in competition, how to cope with start boxes,and progressing to working on rhythm, balance and correct pace while successfully negotiating the varied fences that make up the Camp Hill XC course. Maximum size of group – 6 riders
Duration: 10.00 – 4.00
Cost: £